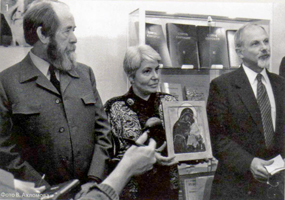 The Moscow state-financed cultural institution Aleksandr Solzhenitsyn House of Russian Expatriates is a unique center that consists of a museum, archive, library, science and research center, information and publishing center, cultural and education center, working all together to bring together and research the cultural legacy of the Russian expatriate community, establishing and strengthening bonds with our compatriots living outside Russia.
The collection of the House includes more than 8,000 items, while the archive contains more than 25,000 exhibits. The library fund – an inseparable part of the House – has great historical and cultural value, with its more than 130,000 objects, 80% of which were published during emigration. Every year, the library acquires 3 to 4 thousand books and magazines. The funds of the House grow and form thanks to the numerous gifts from Russian people scattered across the world, thanks to their selflessness, generosity, and responsible attitude to their history.
One branch of the House – the Memorial Apartment-Museum of Solzhenitsyn – is situated at its original address in Moscow: 12 Tverskaya St., building 8. The writer lived here with his family before he was exiled from the USSR.